SIGN UP FOR THE MAYHEM MINDSET COURSE NOW!

---
SELF PACED COURSE 1
$399

Includes workbook, access to the online course & private Facebook community + weekly email access to Jim for questions and answers.

---
SELF PACED COURSE 2
$699
Includes workbook, access to the online course, the private Facebook community + weekly video interaction and coaching with Jim as you move through the course.

---
GUIDED GROUP WEBINAR
email [email protected] for rates & availability
---
1 ON 1 WITH JIM
email [email protected] for rates & availability

Mayhem Mindset is process designed to help you create answers for your life.
Know who you were born to BE

Know what to do next in your life

Create a vision for your life

Develop mindset tools to capture your emotions

Write and live by your own personal code

Organize your values and beliefs

Understand purpose for your life

Become 100% of who you were born to

BE
---
Can you quickly and concisely answer this question?
In the biggest moments of opportunity in your life or in your darkest hours, will you be enough? Can you count on yourself, and can others count on you? If everything you rely on were taken from you, and you had to stand alone in front of the world and define yourself, what would you say?
---
The Mayhem Mindset Online Course
Why: I believe that finding your purpose starts with taking personal responsibility to create a vision for your life. To become 100% of who you were born to be, you must decide why you are unique and then bring that to the culture. You must define yourself and connect how you want to act to what you believe. Being fully prepared for opportunity or adversity requires this understanding.

What It Is: When was the last time you stopped to rethink the valuable things or the mountains you are willing to die on in your life? Could you pause right now and quickly make a list of the core values that you use to guide your life? Could you easily explain your purpose and then describe how those principles and beliefs play out in what you do every day? Can you tell me who were you born to be? Can you describe your truth?

The Mayhem Mindset online course is about writing your own code to live and compete by. It's about defining yourself, writing a personal philosophy, and creating a filter so you can make mindful choices and decisions based on what you believe is truth in your life. The Mayhem Mindset Course is about developing your future with a clear vision of who you are by organizing your talents, values, and purpose and putting them into language that results in action in your life. This is an opportunity to put in self development work to achieve what you believe is purposeful or the purpose in your life. The Mayhem Mindset Course is about creating practical mindset skills and tools that you can use every day in your life to make choices and decisions based on who you are and what you believe in.
At no point in this process will I try to tell you what to believe, and my primary goal is not to change you. I believe if you're not living from your truth or you're using someone else's words or language, then you can be manipulated by someone else or some ideology other than your truth. I believe you can't become 100% of the person you were created to be unless you can quickly and clearly define yourself.


What It's Not: This is not a motivational program designed to help you feel better. If you are looking for a lightning bolt of motivation or inspiration or you need an uplifting quote or a dose of encouragement, then you have come to the wrong place. Playing this game does not replace the work of a certified counselor, psychologist or psychiatrist.

Working through the Mayhem Mindset Course will be rewarding, but it requires your time and significant effort. It will require you to be a critical thinker and to write and work outside your emotions and feelings. Mayhem Mindset is for someone who is o.k. with being uncomfortable and who understands that adversity makes life meaningful. Mayhem Mindset is for the individual who is looking to grow, develop and challenge themselves. To be successful you must want to be headed somewhere better than where you are now and know that reaching your potential will be directly related to your readiness and willingness to embrace adversity.

What I Think: I think that in order to become 100% of the person you were created to be, you need to develop some practical mindset tools and skills you can use every day. The natural state of our mind is chaotic, but we can use these mindset tools to capture our thoughts and live and compete in the present. I believe that in order to maximize the output of our bodies, we must connect to an authentic way of living that only comes when we understand and live in our truth. To capitalize on the opportunities in your life or grind through the adversity you face, living by a code; being able to quickly define yourself; and clearly articulating your talents, values and purpose can be the foundation for a platform of strength you can live and compete from. Everybody's biggest moments of opportunity and darkest hours are different. This process is about being fully prepared for those moments; it's about being 100% of what you are capable of in that moment. Being prepared, being capable of living to your maximum potential is the goal; what happens after that is what will be. Let me ask you, when you perform at your maximum potential, how many times have you ultimately failed? I believe that the foundation of being prepared is the ability to define yourself and to live and compete from the knowledge of who you are and what you believe in.

Many people look for meaning and purpose in their lives by trying to find a fresh motivation or by doing something different hoping that by doing something different or doing it in a different way it will hold the answer. In the Mayhem Mindset process, that's putting the cart before the horse. First, define yourself; organize your talents and values; understand who you are, then let those truths eliminate confusion and guide what you do next.

What It Takes: The Mayhem Mindset online course consist of audio and video instruction along with a workbook to guide you through the process. It's a self paced course that takes on average 8-10 weeks to complete if you do it as designed. Most people spend 20-25 hours working through the process.

If you have read everything on this page without getting distracted and you know in your heart you need the answers to my question, go now, make the investment, get signed up!
Strength and Honor
Jim Hensel
Your Instructor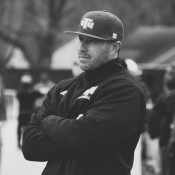 Jim Hensel is an author, speaker, and CrossFit Masters Athlete. A former collegiate athlete and Director of Player Development at multiple college football programs, Jim went on to create a curriculum that is now used in a state university syllabus as well as in mentoring high-performance athletes, including world champion MMA fighters and CrossFit athletes including 8x champion, Rich Froning. As a mindset and culture coach, he is the creator of Mayhem Mindset and works with CEO's, professional athletes, and high-performance entrepreneurs to help individuals get clear on their calling, find significance and codify their core values.
Course Curriculum
Getting Started
Available in days
days after you enroll
Challenge 1: The Principle of BE
Available in days
days after you enroll
Challenge 2: The Matrix
Available in days
days after you enroll
Frequently Asked Questions
When does the course start and finish?
The course starts now and never ends! It is a completely self-paced online course - you decide when you start and when you finish.
How long do I have access to the course?
How does lifetime access sound? After enrolling, you have unlimited access to this course for as long as you like - across any and all devices you own.
What if I am unhappy with the course?
We would never want you to be unhappy! If you are unsatisfied with your purchase, contact us in the first 30 days and we will give you a full refund.